Le Griddle
LE GRIDDLE: FROM THE AIRCRAFT INDUSTRY TO THE GRIDDLE FACTORY
Eric & Rémy two French guys, friends and associates for many years, worked in the design and production of special parts for aeronautics.
Users of griddles, they found it a pity that no griddle on the market had the ideal characteristics :
Cooking Performance
Durability
No rust
Important inertia during cook
Easy to clean
Very cool
So, in 2005 they decided to create the ideal griddle.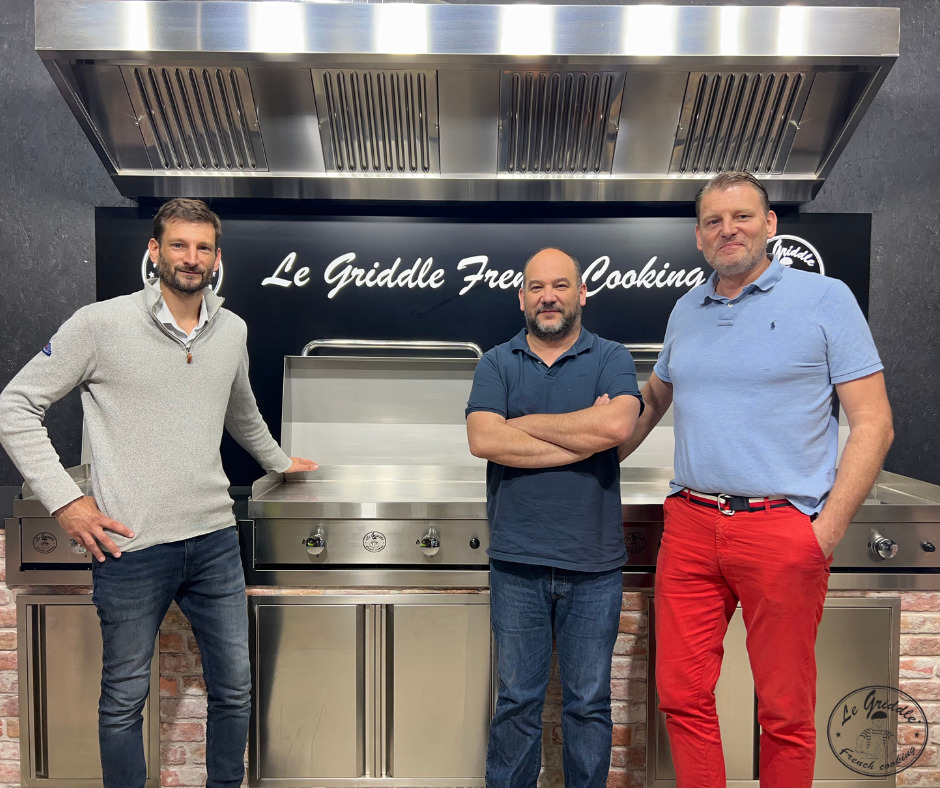 For the LE GRIDDLE team, serving our users is our reason for being.
Welcome to the LE GRIDDLE family !
For it to be resistant and never rust, the griddle had to be designed entirely in stainless steel 304. This stainless steel is the only one that never really rusts.

It was simple to manufacture the box with this 304 stainless steel and to integrate burners and accessories also in 304 stainless steel to give it a very long service life. So they did it !

Cooking and cleaning are easy and comfortable thanks to a very large fat collection tray eliminating the risk of overflowing.
For the cooking plate it was more complicated.
Stainless steel 304 is anti-bacteria by nature because it is not porous, but it transmits heat poorly, deforms and changes color when exposed to the flames of a burner.

Inspired by aeronautical techniques, they had the idea of ​​combining a cast iron radiator with the stainless steel 304 plate to give it inertia qualities and allow heat to be diffused over the entire surface.

Stainless steel and cast iron are normally incompatible and it took two years of research and hundreds of tests to develop a composite cast iron compatible with stainless steel 304.

The DUAL PLATE SYSTEM was born
Thanks to this combination, the cooking plate has all the advantages :

– No deformation
– Homogeneous temperature and perfectly distributed over the entire surface
– Thanks to the inertia of the cast iron heater, no drop in temperature during cooking
– No deformation
– The cast iron heater protecting the stainless steel from direct contact with the flames and the stainless steel never become blue or brown but keep its origin color.
– The cooking temperature is controlled thanks to the accumulation and remains below the carbonization point. Cooking is easy, mastered and cleaning a snap.

Much more resistant than any enamel and not risking the flaking of its surface, the DUAL PLATE SYSTEM plate does not fear shocks or thermal shocks and remains anti-bacteria and healthy throughout its life.

This technology, now proven for years, is LIFETIME WARRANTY WITHOUT ANY LIMITATION.